Table of Contents
Steps to Check PACL SEBI Refund Status online
Step 1: Go to : https://www.sebipaclrefund.co.in/
Step 2 : click on blue Button : Enquiry about payment status?
Step 3 : Enter PACL Certificate Number
Step 4 : Enter the code in the box that you are seeing below the box
Step 5 : Click on search
PACL SEBI Refund Status Details:
| | |
| --- | --- |
| SEBI PACL Website | www.sebipaclrefund.co.in |
| SEBI Helpline Number | 022 61216966 |
| SEBI Support Email | sebi@sebi.gov.in |
| Format of PACL Refund Documents | pdf, jpg, or jpeg |
| Who Can Apply for PACL Refund | Policy Holder, Guardian, Nominee |
| Last Date of SEBI PACL Refund | 31st July 2019 |
R.M. Lodha Committee is that committee that was formed by SEBI to look into the matter of Subrata Bhattacharya vs SEBI and in other related matters following the directions of the Hon'ble Supreme Court of India. The Lodha Committee was appointed the Chairmanship of the former Chief Justice of India, Hon'ble Justice R.M. Lodha. The Committee announced to sell and dispose of off all the properties of PACL, to begin with, the refunds process. As promised, SEBI India has refunded more than 1 lakh investors whose claiming amount was up to Rs. 2500 and now SEBI has invited claim applications from claimants who invested more than Rs. 2500 in PACL properties.
SEBI has released all the details regarding the PACL properties seized. Around 29,000 such properties, 13,863 additional properties have been seized and sale proceeds are underway. This clearly implies SEBI now has that much amount to pay back refunds to all the investors. In this matter, the second round of refunds has begun and claimants can file their refund claims till April 30th, 2019. Some people believe that this is clearly being done to win some votes as the Lok Sabha elections are due in May. That might be the case, but right now we should only focus on the ongoing refunds process so that not even a single update on PACL refunds is missed.
How to apply SEBI PACL refund claim application online?
PACL refund claimants with a total investment amount up to Rs. 10, 000 were refunded, hence concluding the three rounds of refunds and now claim applications are invited by SEBI India from investors with claiming the amount of more than Rs.10,000.
Investors seeking refunds must send their claim applications to www.sebipaclrefund.co.in by uploading all the details and scanned copies of PACL policies.
The refund form applications must reach the panel by March 31, 2022.
A free demo video is available on the website of SEBI so that the PACL investors can see how to apply for PACL refund application form.
SEBI Website for refund Application
Login www.sebipaclrefund.co.in and enter your registration number of pacl india limited policy with your registered mobile number. SEBI has provided an online portal where you can apply for a refund with all of your information including your bank account number where you will get back your refund money.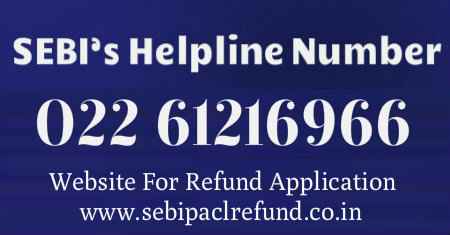 SEBI PACL Helpline Number
For further queries, you can call toll to free number 02261216966, given by SEBI. If you have lost your mobile number or if you have lost your pacl certificate you can call them.
List of Documents Required for online PACL refund application
| Sr No. | Documents Name |
| --- | --- |
| 1. | Name of the investor as per PACL Certificate |
| 2. | Amount claimed (in rupees) |
| 3. | Claimant's mobile number |
| 4. | PACL Scheme Payment Registration number |
| 5. | Scanned copy of PACL Certificate |
| 6. | Aadhaar/ PAN Number |
| 7. | Bank account number and IFSC code |
| 8. | Whether land has been allotted to the claimant |
| 9. | Scanned copy of PAN Card / Aadhaar Card |
| 10. | Bank Statement showing the last three transactions. |
PACL रिफंड फॉर्म ऑनलाइन कैसे आवेदन करें – हिंदी में पढ़े
Steps to Fill SEBI PACL Refund Application Form Online
Lodha Committee is hereby informing all the PACL investors to file their claim applications at www.sebipaclrefund.co.in latest by March 31st, 2022. 'The step by step procedure to submit claim applications is given below:
Claimants need to have these documents to submit their application – PACL Certificate or receipt, PAN Card, any canceled cheque or Bank verification letter, and a photograph.
The claim application link mentioned above will take you to the home page shown below. Click on the 'Registration' button present on the right-hand side.
The Registration form will open up where you will have to fill in all the required fields such as 'PACL registration number', 'Captcha Code', and 'Mobile number'. Click on 'Generate OTP'.
Enter the OTP received on your registered mobile number. You can also regenerate an OTP if you entered the wrong one by mistake.
After entering the OTP number, you will have to enter a password of your choice and then confirm it by re-entering it. Click on the tick box given against 'I agree with terms and conditions' and hit the 'Register button.
On successful registration, you can now login to submit your claim.
The login page will appear asking for 'PACL registration number', 'Password', and 'Captcha Code'. Then, click on login.
After logging in, the following page will appear. Fill in your personal details, bank details, document details, and PACL certificate and receipt details.
Step 1 of the login page with personal details looks like this. Click on the 'Save & Next' button to move to the next step.
Step 2 in the login page with beneficiary bank account details looks like this. Click on 'Save & Next to proceed further.
Step 3 includes the document details page where you need to upload a scanned photograph, a copy of your PAN card, and a canceled cheque or a banker's verification letter.
The last step of the login page will ask you to enter the PACL certificate and receipt details.
After entering all the required details, click on 'Preview & Submit' and you will see your detailed claim application form.
Check all your entered details on this preview page and if you wish to change any information click on cancel to edit the wrong information or else click on 'I agree' box and then hit the 'Final Submit' button.
When your claim application form is submitted, you will get the following confirmation message with an acknowledgment number. An SMS regarding the same will also be sent to your mobile.
Click on OK and the login page will appear. Enter your registration number, password, and captcha code, and press the login button. You will see your Reference or Acknowledgement Number on the personal details page.
Please refer to the FAQ section available on SEBI's website before filing for a claim application to clear out any doubts.
PACL Refund Status Latest News 2022:
Extension of Last Date for Submission of Original Certificates for Refund
The Justice (Retd.) R. M. Lodha Committee (in the matter of PACL Ltd.) (the "Committee") vide public notices dated March 27, 2022 and April 12, 2022 had called for original PACL Registration Certificates from eligible investors with claims between Rs. 10,001/- and Rs. 15,000/- who receive SMS from the Committee requiring submission of the same. The last date for submission of original certificates was June 30, 2022. The Committee has now extended the last date for submission of original PACL Registration Certificates to August 31, 2022.
SEBI refunds over 1 lakh investors – 1st Round
Subsequently, much was said and done by SEBI, investors, and the government, the refund process was finally kicked off as the Lodha committee sent refunds to PACL investors, whose claim amount was Rs 2500
The latest news on Sebi's official website states that the Lodha committee has returned 1,13,353 PACL investors to date based on the details mentioned in their claim applications.
PACL refunds up to Rs 5,000 to 2,77,544 investors – 2nd Round
In the second phase, 277544 investors claimed a claim amount of Rs. 5000 / – has been paid.
SEBI refunds 8,31,018 investors up to Rs 7000 15 April 2020 – 3rd Round
Sebi said in a press release "Justice (retd) RM. The Lodha Committee (in the case of PACL Limited) initiated the process of payment to investors. PACL Limited has paid Rs 204.85 crore to date, affecting 8,31,018 investors. "
SEBI refunds up to Rs 10,000 to 12 Lakh PACL investors – 4th Round
A piece of big relief news for the PACL investors that SEBI issued a public notice stating that more than Rs 429 crore has been paid to 12 lakh investors of PACL so far. Most of them are small investors who claimed the company up to 10,000 rupees.
You can read this news on SEBI's site from the link given below.
Read the link from https://www.sebi.gov.in/media/press-releases/apr-2020/status-of-payment-to-investors-applicant-of-pacl-ltd_46520.html
To check the claim, you have to enter your PACL certification number and a captcha code:
Claim check link: https://www.sebipaclrefund.co.in/Refund/Enquiry
SEBI PACL Refund login Faq
Question:- When will my PACL money be back from SEBI?
Answer:– SEBI is working on the process of returning money to all the affected investors. This is not a one-time process as lakhs of customers have applied for refunds. SEBI has to filter out the investors in different categories like it did for the refund process of Rs.2500. Wait for your money to get back to you. The process is halfway through and your invested amount will soon be back.
Question:- My claim amount is Rs. 5000. When will I get it back?
Answer:– SEBI had refunded 2,77,544 investors who had their claim amount up to Rs. 5000. Fewer applications with Rs. 5000 as the maximum claim amount could not be considered because either the documents were not complete or SEBI had paid the refund amount in the 1st round only.
Question:- When can the claimants with refund amount of Rs. 10,000 and above apply for refunds?
Answer:– SEBI has completed the first two phases of PACL refunds and claimants with refund amount up to Rs. 5000 have been paid. Now, SEBl very soon announces the new dates for claimants' refund process above Rs. 5000. Such processes take time and need to be conducted in parts. Therefore, wait for your call for refunds from the SEBI.
Question:- I entered some wrong details in my claim application. Can I correct them?
Answer:– Yes, you have the golden chance of correcting any wrong information that has been entered in your claim application form. 31st July 2020 is the last and final date to do this. Make sure you don't delay because no changes can be done after this date.
Question:- What to do if I only have a photocopy of my PACL bond but my money has still not returned?
Answer:– Your money will be refunded if you have sent a claim application before the deadline. If you did apply, you must have known that photocopies of your PACL bonds can be attached with your claim application.
Question:- I misplaced my PACL bond receipt. Is it possible for me to apply for refunds?
Answer:– If by chance, you have misplaced your PACL bond receipt, then you need not worry because a photocopy of the same will do the job for you. But, if you haven't applied before the last date for filing refunds, then you cannot claim your refunds in any case.
Question:- I have a PACL certificate in the name of my 9 – year old daughter. Can I apply for refunds on her behalf as she does not have a PAN number and bank account?
Answer:– Yes, parents and guardians of the child can apply for refunds if PACL certificates are issued in the name of the children. Parents can definitely file for refunds on behalf of their children.
Question:- I have already submitted my original documents but have not registered for refunds. When will I get my money refunded?
Answer:– Registration for refund application is very important. It does not matter whether you have submitted your original documents or not. You can even upload a photocopy of your bonds or receipts before the time of filing claims expires.
Question:- When will all the money be refunded to the PACL investors?
Answer:– SEBI is sure taking time to refund all the investors but what needs to be understood in this matter is that these processes take time. The market regulator has received tons of applications which it needs to check thoroughly before it credits an amount to the account of a claimant. A lot of things have to be looked into while refunding like the money should not be sent to the wrong applicant or it should not reach someone who has already received his/her refunds. We duly understand how one feels when your hard-earned money is stuck with a fraud company but all we can say is, patience is key in such matters. Therefore, allow SEBI some time and the way it has completed the first two rounds of refunds, will most definitely speed up the process of refunding the rest of the customers.
Q. How to apply for SEBI PACL online refund form registration?
Ans.To register for PACL online refund process, login to www.sebipaclrefund.co.in. PACL refund registration form will open up where you need to fill in all the required details such as your PACL registration number, registered mobile number, and Captcha Code. After entering the details, an OTP will be sent to your registered mobile number. Enter the OTP received to successfully register for refund claims. After this, follow the instructions that appear.
Q. How to download PACL online refund form?
Ans. The PACL refund form is available for filing refund claims on the official website of SEBI India till April 30th, 2019. This form is not available for download. Claimants can file their refund application form and upload valid documents by visiting SEBI's website.
Q. How do I log in to my PACL Refund Claim Application?
Ans. After registration, you will see a password creation screen. You have to create a password of your choice. The password length must be 8-16 characters and it should contain at least one upper case letter (a-z), one number (0-9), and one special character(@, #, & , !).
Q. What information do I need to submit in the SEBI PACL Refund Claim Application Form?
Ans. You need to submit your name as per PACL receipt/certificate, the claim amount (in Rs.), PAN number, your bank account number, bank name, and IFSC code.
Q. Can I exit even though I have partially filled up the refund claim application form of SEBI PACL?
Ans. Yes, you can exit the application by clicking on the logout button. The information entered by you would be saved when you click on the 'Save and Next' option. You can come later and log in to finish your claim application.
Q. What is the format of the documents to be uploaded for the PACL Refund Application Form?
Ans. The documents can be uploaded in pdf, jpg, or jpeg formats.
Q. What should be the specifications of the documents being uploaded in the SEBI PACL Refund Form?
Ans. The documents uploaded should be on a black and white scale, 200 dpi, and vertically aligned.
Q. How do I know if my refund application is successfully submitted?
Ans – After completion of all the required documents that you have uploaded, you may click on the 'Final Submit' button, upon which a preview screen will appear for confirmation of the information entered by you on the web platform. Upon your confirmation of the information entered, the application would be successfully submitted and an acknowledgment receipt number (ARN) would be generated. This number along with the PACL registration number should be used for all future communication.
Q. Can I delete/edit the information I have saved for PACL Refund Form?
Ans. You can edit/delete the information multiple times till you submit your application by clicking on the 'Final Submit' button. However, once you have clicked on the 'Final Submit' button no further changes would be allowed.
Q. What if I forgot my password of PACL Refund Login?
Ans. Click on the 'Forgot Password' option on this website. Enter the PACL registration number and click on generate OTP option. Enter the OTP received on your mobile number and click on submit OTP. Once the correct OTP has been submitted, you would be taken to the 'Enter password' screen where you can create a fresh password.
Q. What if I do not have a PAN card?
Ans. You would need to obtain a PAN card and then submit the application
Q My name on the PACL Certificate and the Aadhaar and PAN Cards are different?
Ans. You are to provide the name as is on the PACL Certificate along with the necessary supporting documents i.e., PAN/Aadhaar Card, Bank Statement, and PACL Certificate/Receipts.
Q. Can a guardian claim for a PACL refund if there is an investment made in the name of a minor who does not has a PAN Card?
Ans: As per the SEBI PACL refund process, a guardian can apply for refunds online only if he/she is a nominee for accepting refunds on behalf of that minor. A minor might not have a PAN card which makes the nominee eligible for applying refunds for the PACL account registered in the name of that minor.
Q. If an old/aged investor has to claim PACL refunds but he/she does not have a PAN Card, then it is possible that their nominee can apply for refunds on their behalf?
Ans. No, an aged investor has to have a PAN card to claim for their refunds and no nominee can claim it on their behalf. However, SEBI might release some new information regarding the aged investors without PAN cards. So stay tuned for related updates.
Q Have investment in the name of a minor, can guardian apply for a refund with their bank details?
Ans. In the present process of refund,a guardian cannot apply for a refund on behalf of a minor at this stage. However, the matter is being considered by the Committee and as and when a decision is taken in this regard, the same shall be notified.
Q What if the PACL certificate holder has passed away? Can any nominee file for refund claim on behalf of any deceased investor?
Ans. Yes! If an investor has died but the PACL bond issued on their name has the name of a nominee, then that nominee can apply for PACL refunds on the behalf of the deceased investor.
Q What if I do not have a PAN card?
Ans. You would need to obtain a PAN card and then apply.
Q How do I obtain a PAN card?
Ans. To obtain information on how to obtain a PAN card, click on the below link.https://www.incometaxindia.gov.in/Pages/tax-services/apply-for-pan.aspx
Q.What if the PACL Refunds website is not working?
Ans. Chances are high that the PACL refunds login page/website might work at a slow pace or hang or even crash. The reason for this might be the excessive traffic on this login page as PACL claimants from all over India would be visiting the website which ultimately leads to the site getting down. Users facing such problems should wait for some time and apply for refunds later in the day when there is presumably lesser traffic on this website.
Q. What to do if an investor faces trouble while filing for PACL refunds?
Ans. If an investor is unable to register for refunds or they receive any message like 'Your login details do not exist, then those claimants can take a screenshot of that particular page and send it to sebi@sebi.gov.in with their related concern.
Q. What to do if my documents are not being uploaded successfully?
Ans. Unsuccessful upload of any of your documents might be the case of the supporting documents being more than the prescribed upload size. Keep your documents in a smaller size format (preferably KB) for an easy upload of them.
Q. If an investor has more than one bond registered with PACL with the same name, then do they need to fill separate claim applications?
Ans. Yes, if an investor has three or four bonds with PACL, then they will have to fill separate claim applications for each of them. This is because every bond shall have a different number on them and investors will be refunded only for those bonds for which they have filled claim applications.
Q. What if an investor has lost their PACL receipt(s)? How can such investors apply for PACL refunds?
Ans. If an investor has lost their PACL receipt, they can attach the original bond and the first and last receipt of that particular bond. Attaching all the receipts is not necessary.
Q. What claiming amount out of principal or maturity has to be filled in by an investor who has an FD registered with PACL?
Ans. If an investor is seeking refunds for their FD in PACL Ltd., then they can fill in the maturity amount if the maturity date is over. If your FD is yet to reach the maturity date, then you can apply for refunds only for the principal amount mentioned in the FD.
Q. If an investor took a loan on their PACL policy, how can they apply for refunds?
Ans. Yes, of course! Investors, who have applied for a loan, let's say an investor applied for 40% loan while purchasing a policy from PACL can file for refunds. They can claim the refunds for the principal amount invested and they shall be refunded with that amount.
Q. What are the deficiencies that leads to your refund form rejction ?
Ans.
| S. No. | Deficiency |
| --- | --- |
| a | Land allotted field marked as 'Yes' either in the claim application or in the PACL database. |
| b | The amount already paid by PACL as observed from the claim status in the PACL database |
| c | The amount already paid by SEBI in the 1st refund process |
| d | Incorrect PACL certificate uploaded by the investor. |
| e | Scanned image of PACL certificate uploaded by the investor which is not legible. |
| f | Incorrect bank account details provided by the investor in the claim application. |
| g | Name as per PACL database not matching with name as per bank account. |