Though application date has been expired to apply PACL refund form online. But for the next round we have posted a video so that you can know how to fill pacl refund application form online. You don't need to PACL refund form to be downloaded.
How can PACL investors apply for refund online?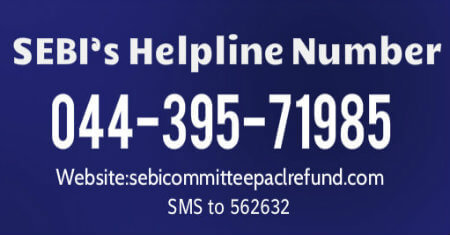 1. SEBI had said that the Lodha panel will invite claims from the affected PACL investors who have a total Principal Amount up to Rs.2, 500 with PACL. This will be the first round of refunds that will be generated.
2.Investors seeking refunds must send their claim applications to SEBI with their details either by sending SMS to 562632 or by uploading all the details at https://sebicommitteepaclrefund.com/
3. The refund form applications must reach the panel by March 31st, 2018.
4. The details of the PACL investors seeking refunds must include the following information:
• Name of the PACL investor as mentioned on the PACL Certificate
• Amount(in Rs.) to be claimed
• Mobile number of the PACL investor(Claimant)
• Registration Number of the PACL Scheme that you invested in
• Aadhar or PAN Card Number
• Bank Account Number with IFSC Code
• Whether the land has been allotted to the PACL investor(Claimant) by PACL or not
• Scanned copy of Aadhar or PAN Card
• Scanned copy of three latest Bank transactions. The Bank Statement must clearly show the applicants details – name, address, account number and IFSC Code.
5. A free demo video is available on the website of SEBI so that the PACL investors can see how to apply for PACL refund application form.
SEBI has ordered to all the investors to submit their original documents.
Following points must be remember while applying for refund.
Only those investors have to submit their original documents who has received a SMS from SEBI.
Only those investors can apply for refund whose total is below 2500 INR.
Refund will be credited to their respective account so confirm you bank account number,  that you have given to SEBI.
Also keep photo copies of your original documents for future perspective.
Your all documents must be sent on time.
 Send your documents by speed post or courier service.
Address to Send your documents:
SEBI Committee in the matter of PACL, Regus Grandeur Offices Pvt. Ltd., 8th Floor Samson Towers, Pantheon Road, Block No.31, Egmore, Chennai-600008.
Second Round May be Start in 2019
SEBI likely to get Rs. 1400 Crores in January 2019 from PACL's Australian Property – 
Now that the Australian Federal Government has accepted the petition filed by SEBI (dated July 20, 2018) seeking the sale of the property/assets of PACL in Australia, the investors can now get a sigh of relief. All the property/assets of Pearls raised in Australia have been sold by the Federal Government and money has been acquired.
According to few reports, SEBI is likely to receive 270 million or 14, 12, 48, 34, 000 INR next year in January from the Australian Government. After receiving this amount SEBI may start the second round of refunds. Therefore, the investors whose claiming amount was more than Rs. 2500 might get their refunds back real soon.
For initiating the next round of refund process, SEBI might ask the remaining 5 crores investors for the entire details just like they released the claim application forms for refunding the claimants with Rs 2500 amount. The refund application form might be available on SEBI's official website where claimants can file their refund claims. The wait will finally get over as and when SEBI releases something officially.      
Tags: how to get money back from PACL, PACL India limited refund, PACL Latest News, SEBI Application for Refund