Pearls Limited – An Introduction – A Ponzi Scam
Pearl Agrotech Corporation Limited(PACL), registered on 13th of February, 1996 under the Companies Act 1956 with the Jaipur registrar of companies was a Real Estate Company also known as Pearls. It was involved in number of prestigious construction projects across the regions of Noida, Zirakpur, Delhi, Mumbai, Bathinda, Vadodra, Madurai, Mohali, etc. Not only with the construction projects, PACL was also a part of many agricultural projects.
How did PACL Scam happened?
How many investors ditched?
Pearls had duped over 58 million investors who had invested their hard earned money in PACL. At least Rs. 49,100 crores had been collected from the investors illegally in the past 15 years from PACL and Pearls Golden Forest Limited(PGFL), two companies owned and controlled by Nirmal Bhangoo group in the name of sale + development of the agricultural land. The investors were promised higher returns but they never got even one percent of what they has invested.
From which region of India, PACL agents and investors are ?
Most of the PACL agents and investors belong to the Indian rural areas and villages. These poor people invested all that they had and the Pearls organization made a complete fool of them and looted all their lifetime savings. These people are now left with a diminishing hope that their invested amount will return one day but refunding process is going at a super slow pace.
Where is the money taken from investors?
The money invested by 6 crores investors was never utilized properly by the Pearls Group i.e. the invested money was actually meant to be for the people from the management of PACL, their friends and family members. According to a report submitted to the Supreme Court by Pearls Group itself, notifies that PACL had purchased more than 3 crores acres of land in India in 7 years on the name of its associate companies and people from the management.
How this scam could be stopped in 1998
Pearl Agrotech Corporation Limited (PACL) was a Real Estate Company also known as Pearls registered on 13th of February, 1996 under the Companies Act 1956 with the Jaipur registrar of companies. Since then, the company made a ritual of duping and ditching people of their money and invested amount. It was first investigated by SEBI in 1998 but because shortage of proper evidence PACL managed to win argument sand after that SEBI came with more strong evidence in 2015
First FIR lodged against PACL by SEBI: It was actually the ED (Enforcement Directorate) who started the investigation and lodged the first FIR in 2015. This complaint was filed by the ED based on the investigations undertook by CBI. It was in 2015 that the Chairman of Pearls Group, Nirmal Bhangoo along with his other companions was arrested.
PACL declared a fraud company again: The PACL Company was banned and blacklisted in 2015 by SEBI. It was done on learning that Pearls had duped over 58 million investors who had invested their hard earned money in PACL.
Write about when started, first FIR on pacl or SEBI's first action on PACL, after how many years again SEBI declared it scam.
How PACL Became Popular?
Few factors led to the popularity of PACL Group. These are:
1) PACL started a P7 news channel
PACL was running a news channel named as P7, which started few years back. This was a mode of gaining popularity among the people and also a source of making money.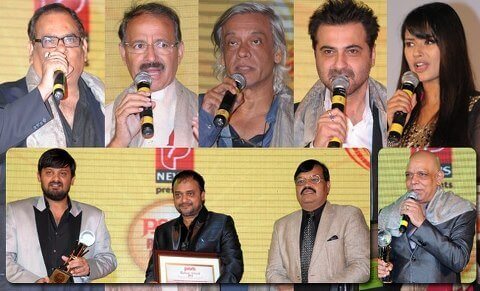 2) Celebrities and politicians connection
PACL was Real Estate Company started by a normal milkman and made famous by celebrities, cricketers and politicians, Yuvraj Singh and Harbhajan Singh to name a few. CBI had reported that both the players were gifted with flats in Mohali by the PACL group.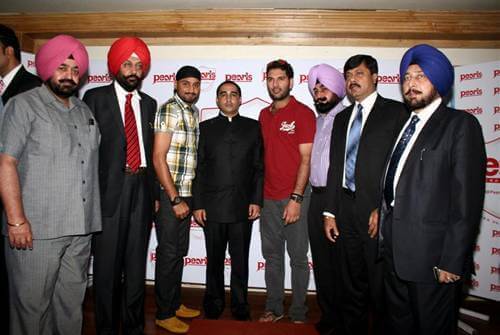 3) Brand ambassador for advertisement
Many cricketers and celebrities were involved in promoting different events organized by PACL. They even appointed the Australian cricketer, Brett Lee as their brand ambassador for promoting the Pearls Group in the Australian continent via advertisements.
Master Mind of PACL Scam – Nirmal Bhangoo
Nirmal Bhangoo, a milkman who was held responsible for duping nearly 6 crores investors is the mastermind of the PACL scam, the man who executed each and every plan without a glitch. See the following details for knowing what was the aftermath of Bhangoo and his companions.
History of Nirmal Bhangoo and his family
Bhangoo was a normal milkman a few years back but his interest in property made him the king of real estate. Nirmal Singh Bhangoo has 2 daughters and a son. A few years back he lost his son in an accident and after that his two daughters and his 2 son-in-laws were looking after his business in Australia. His daughter in laws has also filed a case on him after the death of his son.
Just a day before of his arrest in PACL scam, Nirmal had gifted a million dollar house to his daughter in the posh area of Queensland, Australia. Australian Govt has awarded Nirmal Singh Bhangoo for his good investment projects in Queensland. His son and daughter received this award in his absence. His family members also have some links with the Australian Government and with the help of government they had managed to get all the facilities within a day to purchase any kind of property. Sheraton Mirage Resort on the Gold Coast is one of the best examples of this, which could not have been purchased easily.
How many people are involved in PACL Scam?
A Ponzi scam involving 6 crores investors has shocked everyone and made them worry about their investments. PACL, the real estate development company ditched their investors and lied them about giving a property and made them pay their entire savings.
How many people are in jail for PACL Scam?
Other than the family members of Bhangoo, these people were found to have been involved in the PACL scam – The Chairman cum Managing Director of PACL (Pearls Group) and his other three officials Sukhdev Singh (MD and Director – Promotor at PACL), Subrata Bhattacharya (ED in PGFL/PACL Ponzi scheme case and Gurmeet Singh (ED Finance) were arrested by the CBI following inconsistent statements and non – cooperation during investigation. A case under Section 120B (criminal conspiracy) and 420(cheating) of IPC were registered against these four.
PACL Australia link
Bhangoo not only invested in India but they also made huge investments in foreign locations like Australia. Let us know how Pearls has a connection with the Australian land and what has SEBI recovered the bulk invested amount.
How much Bhangoo and family invested in Australia?
PACL has invested a huge sum in Australia. The most prominent property of PACL in Australia is 'The Sheraton Mirage on the Gold Coast' which was nearly of 170 million AUD back in 2013.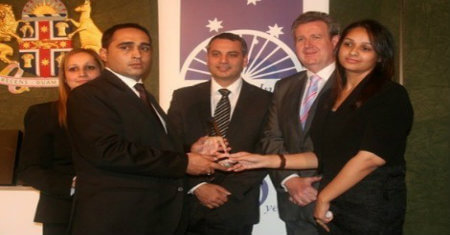 PACL and Gold Coast Hotel connection
Few years back, PACL purchased their most prominent property in Australia called The Sheraton Mirage Hotel on the Gold Coast in Queensland. This hotel was nearly of 170 million AUD back in 2013.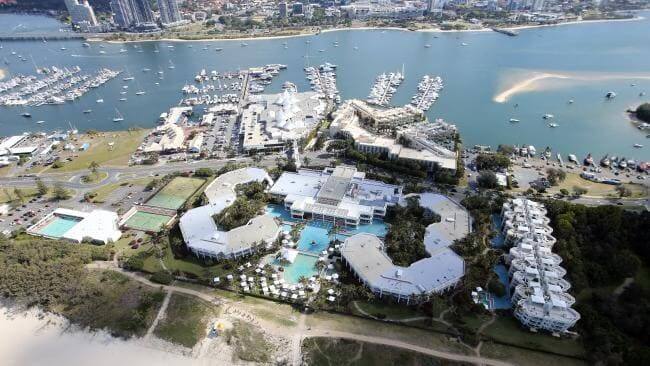 PACL case status in Australian Federal Court
On 17 September 2018, SEBI said that the Australian Federal Court has accepted its claim seeking repatriation of the funds on behalf of PACL investors. The money mobilized by PACL Ltd from investors was utilized for acquiring certain assets in Australia, SEBI said in a statement. Now that the Federal Government has given the permission, SEBI can proceed to sell the various properties of PACL purchased in Australia.
SEBI action on PACL
SEBI helpline numbers and websites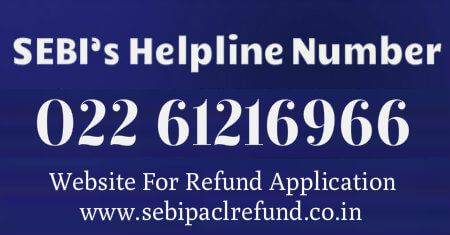 To know the status of PACL Refund forms, investors or claimants can call on "02261216966". As we all know SEBI has many thousands of cases to look at in their schedule. But by seeing the number investors and their queries SEBI has decided to provide a special helpline contact number for the pearls investors. Investors seeking refunds must send their claim applications to  www.sebipaclrefund.co.in
Funds Recovery Sources
The Lodha Committee has been working tirelessly to ensure recovery of the funds invested in PACL. Following are the methods through which the Lodha Committee is ensuring recovery of PACL funds:
1. Via Deposits made by PACL Ltd.:
FDRs of PACL with different banks: The Committee has got 1121 FDRs of PACL with 23 banks, whose scanned copies were received from Stock Holding DMS Ltd. The Committee has so far recovered Rs.4,93,628,76.84 from 8 banks and 9 banks have already submitted remittances to the market regulator, SEBI.
2. Recoveries from Systematic Venture Capital Trust:
The Lodha Committee got a report from the ED stating that about 25 subsidiaries of PACL Limited who have allegedly transferred Rs. 113.45 crores into the bank account of Systematic Venture Capital Trust. Till 06.01.2017, Rs. 16, 86, 98,766 had been recovered by the Committee from the Systematic Trust.
3. Rents from PACL Limited Hotels:
The Lodha Committee has got documents of the properties given on lease by PACL Ltd. for building hotels in the regions of Chandigarh, Zirakpur, Colva and Calangute beaches in Goa. An inspection was conducted and it was found out that all of these three hotels were given on lease for 20 years to India Datsec Solutions Pvt Ltd. by the PACL Ltd. Company and the India Datsec company has delayed rent payments to the Committee. The Committee has recovered Rs. 72, 37,393 from these three hotels. There are some other hotels given on lease located at Dharampur (Himachal Pradesh), Noida (Uttar Pradesh) and M.R. Hotel in Karnal District of Haryana.
4. Australian Property
Rs. 5,23,14,20,000 generated from other PACL properties in Australia and Sheraton Mirage Hotel worth Rs. 8,89,34,14,000.
 

Investors reaction on SEBI

PACL investors are finding it quite difficult to trust SEBI because of the delayed refunds process. Following are some reactions of the investors seeking refunds. Read through:
(1) SEBI wasting time to refund investors:
About 6 crores investors are waiting for their refunds and SEBI has already wasted so much of time to procure refunds and they still need more time. Are they doing it just for the heck of it? Do they even realize what the investors must be going through? If they are unable to refund those whose claiming amount was Rs. 2,500, then what about the other investors who invested in big numbers.
(2) Plenty of Pearls property seized still no refunds by SEBI
Point to be noted here is, there is ample amount of property seized by SEBI, and still they are finding it so difficult to arrange refunds. Australian Government also acquired the PACL property and handed it over to the Indian Government, but where is all this money and property going?
(3) Middle – income group investors having financial issues
People who invested in Pearls generally belong to middle class families and they invested their meagre income into this cheat company, thinking that it would be doubled but little did they know that they will be left with nothing in their hands.
(4) Outrage among investors
This delay has already outraged the investors and they have brought them to roads. They have left all their important works and now are protesting with tears in their eyes and anger in their hearts.
(5) SEBI is not trustworthy
Now these people are finding it way too difficult to trust SEBI's stance that they are working towards refunding the victims of PACL scam. SEBI should try to build trust upon these affected investors so that they can see a ray of hope that their money will be refunded.
(6) No open conference held by SEBI
Till date, SEBI has NOT conducted any open conference or any meeting to address the issues of these people. With no transparency in the refunds and recovery process, how can PACL victims believe that SEBI is actually taking stringent steps torefund the duped PACL investors.SEBI should bring transparency in this refund process so that it can assure people the delay is genuine. Hiding such reports will only make the investors doubt upon SEBI and the Indian Government.
(7) Similar things happened in 'Sahara Case'
It is very obvious that the PACL investors will lose their trust on SEBI and the Indian Government because just like SEBI blacklisted Subrata Roy's company Sahara, the same way it did with PACL. But what is the end result? Victims of both these companies are still waiting for their plea to be heard.
Role of AISO in PACL Refund
Introduction to Aiso
All India Safety Organization is a non – governmental organization which took to streets to support the PACL victims. This group has worked tirelessly to make the government and SEBI realize that the investors are demanding their money back. AISO has been actively posting on their Facebook page regarding dharnas and marches which were joined by the affected PACL investors. The efforts of this organization didn't go wasted and the SEBI very released the first lot of refunds by refunding the claimants with refunds up to Rs 2500.
Who is leading?
The strong and brave social activist, Mahendra Pal Singh Dhankad is leading the AISO. Dhankad has been providing all the necessary information and updates on PACL to all the investors seeking refunds.
Role of AISO in Australian properties recovery:
AISO has also played a huge role in the recovery of PACL Australian property. The pressure put by this organization was enough to bring back the investors money back to India. It was on the massive appeal of AISO that SEBI filed a petition before the Australian Federal Government to sell the Australian properties of PACL, following which the Federal Government allowed the sale and proceeds of all the Pearls Australian property.
PACL Refunds Process moving at a snail's pace
Why investors don't trust on SEBI and government?
There were and still many factors which make the investors lose their faith on the Government and the SEBI. They took a lot of time to refund those investors whose claiming amount was up to Rs. 2500. There is already a lot of outrage among the investors because of the amount of time SEBI took to refund few investors. Only time will tell when the investors with refunds more than Rs. 2500 will get their invested amount back but it is expected that by January 2019, the refund process might start. But again, you never know what SEBI and the Indian Government are planning for the investors? Is it a delay or an early relief?
PACL investors state organizations staging dharnas
Many different organizations were formed by the social activists and the affected PACL investors. These organizations had staged several protests, took out marches to show their anger against the SEBI and the Government. The biggest protest was staged at the Ram Leela Maidan, New Delhi but it seemed the government and SEBI were on backfoot and were sitting quietly doing nothing.
Suicide cases of agents and investors
Also, some suicide cases of agents and PACL investors brought this scam to light. This also helped people recognize the true face of Pearls Company but it is definitely a plight for those who had invested huge amounts in this Real Estate Company.
What is "Pehle Bhugtaan fir Matdaan" Slogan?
Investors have raised a slogan for the SEBI and the Indian Government, which says 'Pehle Bhugtan fir Matdaan'. This clearly means that the affected investors will vote in the upcoming Loksabha elections if they are provided with their refunds on time.
Investors planning not to vote for upcoming Lokshaba elections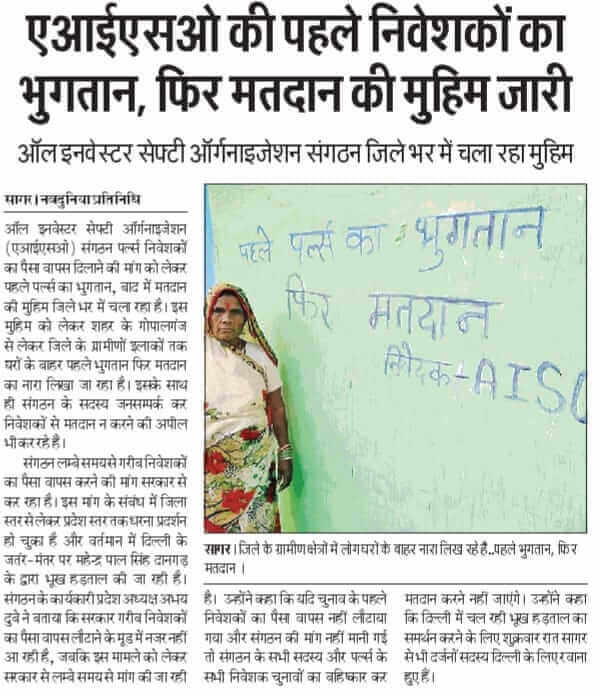 The Indian Government could have intervened in a big way and helped the PACL investors in solving their refund issues, but they have played a negligible role. Given the fact that the 2019 elections are round the corner, the government must take note of these investors as this can help them in a big way to form the government yet again. But the government must realize that this way they will lose a major vote bank which can single – handedly lead them to victory in the coming elections.
What Indian Government can do for Investors for Fastest Refund?
The Indian Government can play a major role in ensuring fastest refunds to the PACL refunds. The government can pressurize the Pearls group to reveal all their hidden property, land assets and whatever that PACL has not disclosed. Secondly, the Government can ask SEBI and Lodha Committee to speed up the refunds process and issue a certain time limit in which the refunds order to ensure that the refunding authorities do not have any hidden interests. Plus if the government helps these investors in any way, then they clearly get a vote bank of 6 lakhs Indian citizens for the 2019 elections.
Media ignoring the Dharnas and Strikes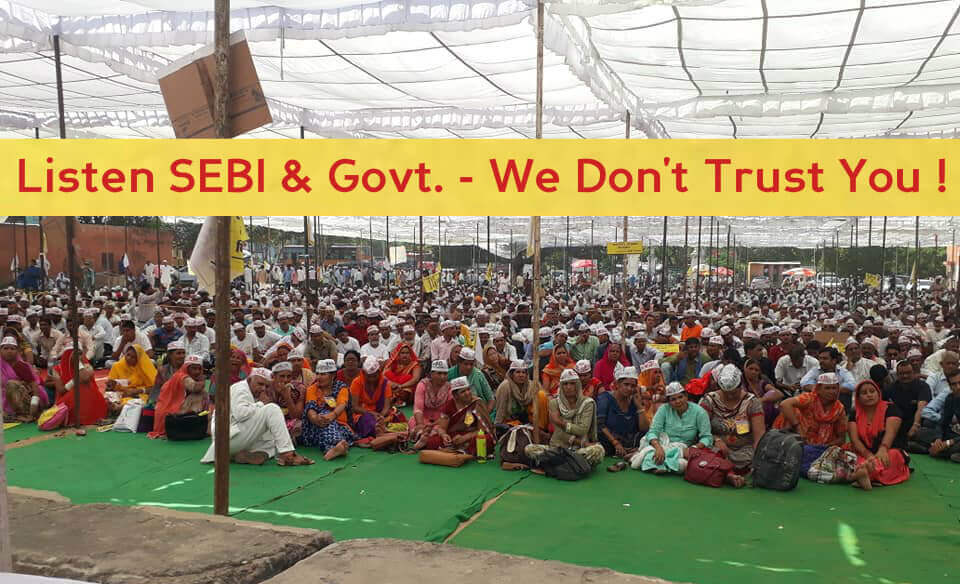 The Dharnas and strikes being done by the PACL investors are totally being ignored by the media persons. They also do not want to bring to light the plight of these affected people, forget about being the voice of such helpless people. The investors staged a huge dharna at the Ram Leela Maidan, New Delhi and also at the Jantar Mantar. It was ignored by the media and the government alike. And there are many more strikes, dharnas and marches which the investors have been carrying out since a long time but their voice seems to be unheard.
SEBI First Round of Refunds Completed up to 2500 INR
SEBI completed First round of PACL refunds up to 2500




In the month of February this year, the Lodha Committee appointed to look into the matter of Pearls real estate property scam, invited refund claims from investors, a process which was open till March 31st, 2018. The latest news on the official website of SEBI says the Lodha Committee has till date refunded 1, 13,353 PACL investors based upon the details mentioned in their claim applications.
How much money investors got after refunds?
1, 13,353 PACL investors with claiming amount up to 2500 have received their refunds. Now is the turn for the second pool of investors to get their refunds.
How much money SEBI still has in their account after first round of refund?
Now that the Australian Federal Government has accepted the petition filed by SEBI (dated July 20, 2018) seeking the sale of the property/assets of PACL in Australia, the investors can now get a sigh of relief. All the property/assets of Pearls raised in Australia have been sold by the Federal Government and money has been acquired. Plus all the property recovered from the different sources will also add for the refunds process.
Investors Waiting for Second Round above Rs. 2500 Refund




Though the refund process has started and some investors have been refunded but still there is a long way to go if we look at the number of investors who are still waiting for their money. It is very clear from the number of properties PACL had acquired, that they there is ample amount of money (Rs. 8500 crores) which can be used to refund all the PACL investors. Now, it is up to the Lodha Committee and SEBI to refund the investors.
Recovery from Australian properties
Rs. 5,23,14,20,000 generated from various scattered properties of PACL in Australia. Sheraton Mirage Hotel situated at Gold Coast, Australia worth Rs. 8,89,34,14,000. The Australian property/assets of Pearls come out to be more than Rs. 1, 400 crores in total.
Filling of second round refund form online
Lodha Committee is hereby informing all the PACL investors to file their claim applications at www.sebipaclrefund.co.in latest by April 30th, 2019.'The step by step procedure to submit claim applications is given below:
1. Claimants need to have these documents to submit their application – PACL Certificate or receipt, PAN Card, any cancelled cheque or Bank verification letter and a photograph.
2. The claim application link mentioned above will take you the home page shown below. Click on the 'Registration' button present on the right hand side.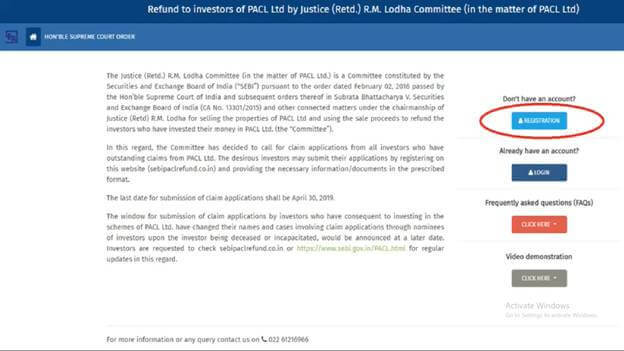 3. The Registration form will open up where you will have to fill in all the required fields such as 'PACL registration number', 'Captcha Code' and 'Mobile number'. Click on 'Generate OTP'.
4. Enter the OTP received on your registered mobile number. You can also re – generate an OTP if you entered a wrong one by mistake.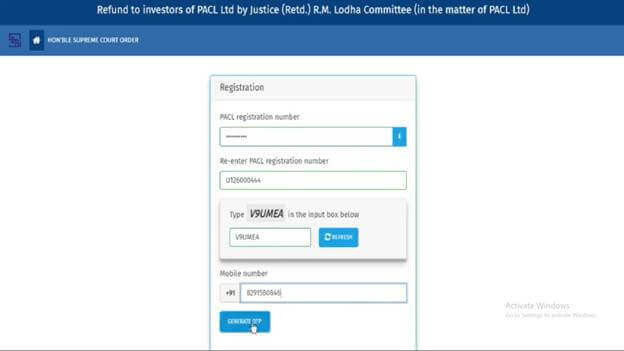 5. After entering OTP number, you will have to enter a password of your choice and then confirm it by re – entering it. Click on the tick box given against 'I agree with terms and conditions' and hit the 'Register' button.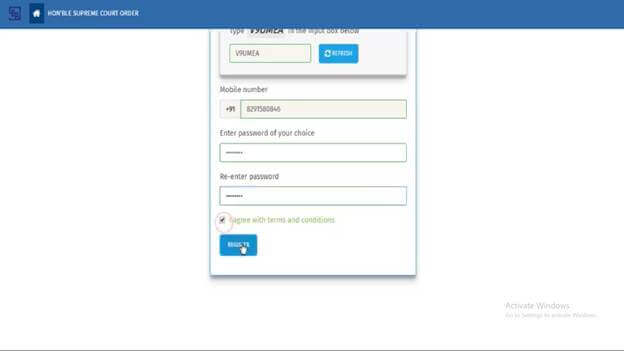 6. On successful registration, you can now login to submit your claim.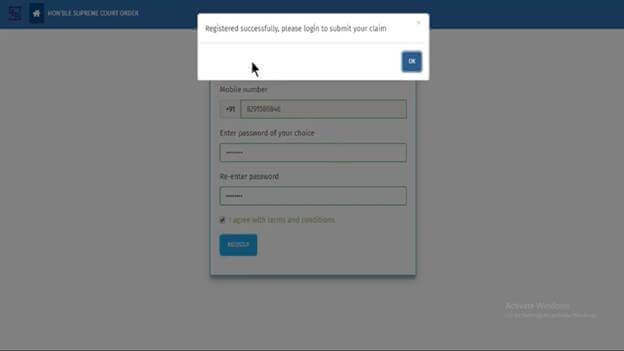 7. The login page will appear asking for 'PACL registration number', 'Password' and 'Captcha Code'. Then, click on login.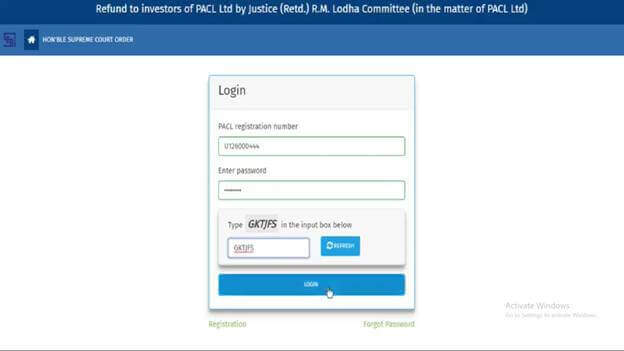 8. After logging in, the following page will appear. Fill in your personal details, bank details, document details and PACL certificate and receipt details.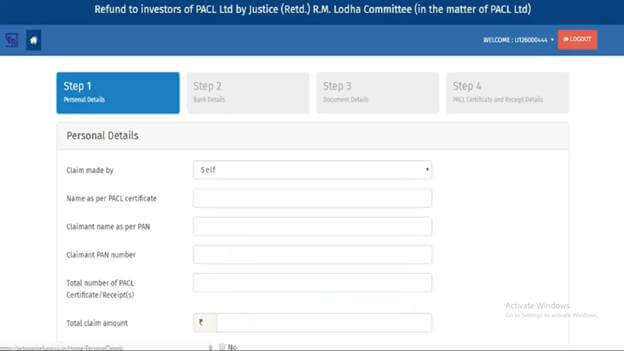 9. The Step 1 of login page with personal details looks like this. Click on 'Save & Next' button to move to the next step.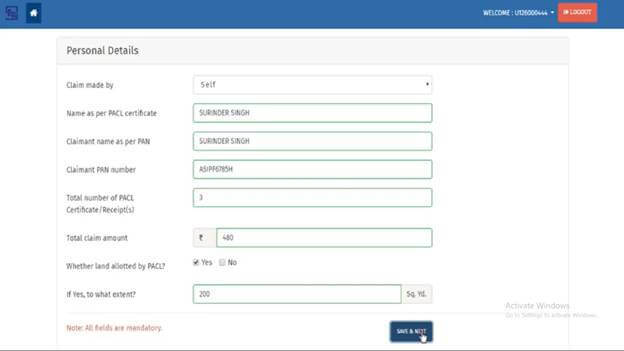 10. Step 2 in the login page with beneficiary bank account details looks like this. Click on 'Save & Next' to proceed further.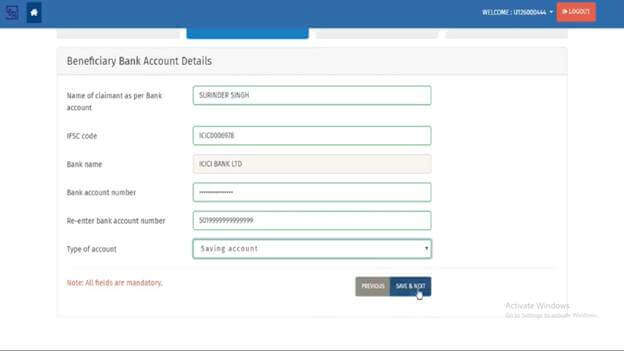 11. Step 3 includes the document details page where you need upload a scanned photograph, a copy of PAN card and a cancelled cheque or a banker's verification letter.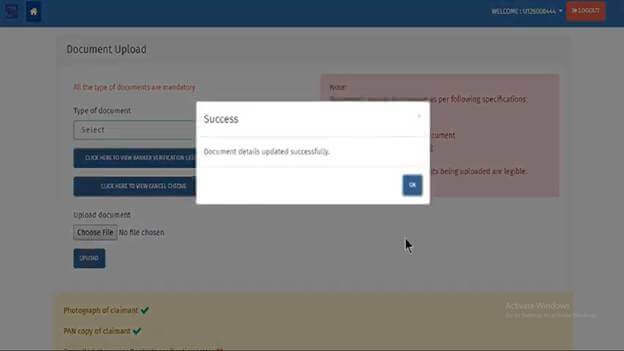 12. The last step of the login page will ask you to enter the PACL certificate and receipt details.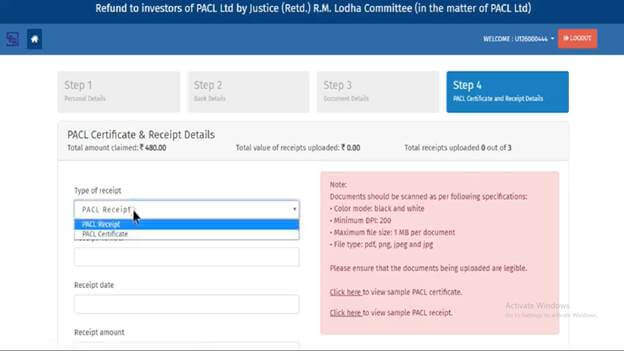 13. After entering all the required details, click on 'Preview & Submit' and you will see your detailed claim application form.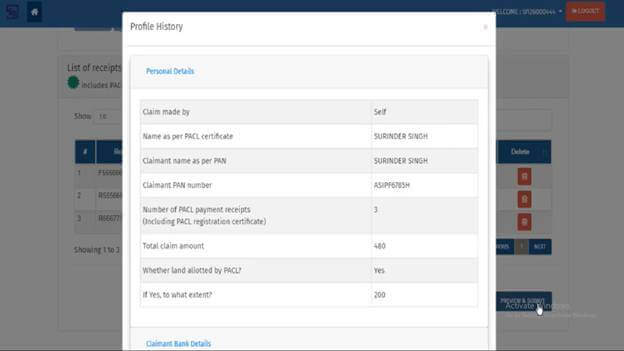 14. Check all your entered details in this preview page and if you wish to change any information click on cancel to edit the wrong information or else click on 'I agree' box and then hit the 'Final Submit' button.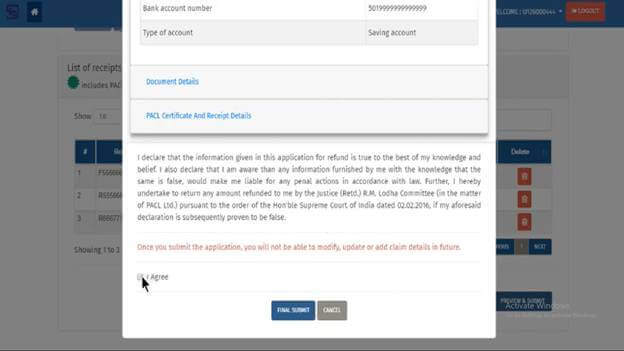 15. When your claim application form is submitted, you will get the following confirmation message with an acknowledgement number. A SMS regarding the same will also be sent to your mobile.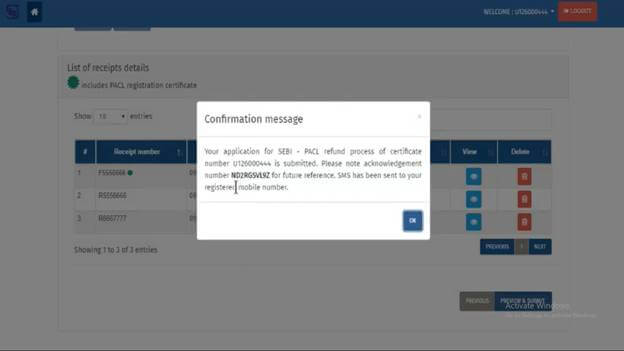 16. Click on OK and the login page will appear. Enter you registration number, password and captcha code and press login button. You will see your Reference or Acknowledgement Number on the personal details page.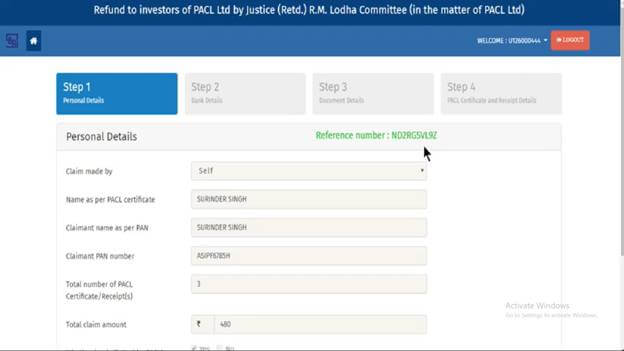 17. To clear out any doubts, please refer to the FAQ section available on SEBI's website before filing for a claim application.
7 Things to know for PACL Refund – Don't Miss them
For the already duped PACL investors waiting for their refunds, there are a few very important things that they must know beforehand so that it does not leads to any further confusion. Read on to know these warning signs in order to get back your refunds from SEBI India real soon.
Don't miss the official announcement from SEBI
For all the latest and official announcements by SEBI India, PACL investors need to keep a regular check on the newspaper and on SEBI's official site so as to keep themselves updated. Till now, all that has happened in the context of PACL has been publicly released and published by SEBI on their website and in newspapers.
Find a genuine source of information
PACL investors really need a genuine and original source of information. The thing is, not to get swayed away by any flattering news articles that actually have no truth. PACL investors can refer to www.pacllatestnews.com to get all latest and genuine information. We provide information about everything regarding PACL, from when did PACL scam happened to when the refunds will be credited.
Don't believe in rumors
Many people are spreading all kinds of rumors to scare the PACL investors. Such sources are obviously not the original sources of information and people must try to keep themselves away from such fake information that can spin their head. Maintain a positive attitude and believing in Government and SEBI is the only thing that the investors can do at this point of time.
Don't give your documents to agents
PACL investors must keep themselves away from sharing any of their PACL receipts, certificates and other details with anyone until and unless SEBI releases and official processes. It is obviously a well – known fact that the Indian governmental processes take time to complete and therefore, the investors need to trust only the official and genuine sources rather than handing off all the important documents to some fake agents. That in any way will not fetch you your refunds amount.
You must have original documents
Investors must keep all their original documents fully ready as SEBI at any point of time can ask for these documents. SEBI will send SMSes to investors to send their PACL certificates and receipts at their official address, the same way they did to refund the claimants with refunds amount up to Rs. 2500.
Don't blame the agents ask them guide for refund!
Putting blames on the agents shall be of no use for the investors. The investors should rather ask these agents to guide them about the refunds process. But please bear in mind, don't hand over any of original or photocopied documents to any agent who claims to get your refunds back in no time.
Participate in protest with investors
Many of the PACL investors and social activists and organizations like AISO took it to the roads to protest against SEBI and the Indian Government. These protests have been quite influential in putting pressure on SEBI to speed up the refunds process. If you have not joined the protests, come and join these now. This way you'll become more aware about the refunds process.
Tags: about PACL Latest News, how to get money back from PACL, Latest News about PACL case, Latest News about PACL company, Latest News about PACL from SEBI, Latest News about PACL limited 2015, Latest News for PACL india limited, Latest News of Pearls, Latest News of Pearls company, Latest News of Pearls group, Latest News on PACL india, Latest News on Pearls group, Latest News PACL company, Latest News PACL india limited Pearls, Latest News PACL today, Latest News Pearls group, Latest PACL News in india, lodha committee PACL Latest News, lodha committee PACL report, mlm PACL Latest News, News about Pearls, News about Pearls india ltd, News of Pearls group, PACL 2019 Latest News, PACL and SEBI Latest News, PACL auction Latest News, PACL bank Latest News, PACL case Latest News, PACL cbi Latest News, PACL chennai Latest News, PACL Company Latest News, PACL disinvestment Latest News, PACL group Latest News, PACL india Latest News, PACL India limited, PACL india limited case status, PACL india limited contact number, PACL India Limited Latest News, PACL india limited Latest News in english, PACL india limited Pearls plan News, PACL India limited Refund, PACL india ltd Latest News, PACL india ltd Latest News today, PACL india news, PACL india pvt ltd Latest News, PACL insurance company Latest News, PACL insurance Latest News, PACL Ki Latest News, PACL Latest News, PACL Latest News 2019, PACL Latest News about Refund, PACL Latest News in malayalam, PACL Latest News in Telugu, PACL Latest News rajasthan, PACL latest news sebi, PACL Latest News today, PACL Latest News video, PACL limited Latest News, PACL lodha committee, PACL Lodha Committee Latest News, PACL ltd Latest News, PACL ltd Latest News today, PACL ltd News Today, PACL ltd SEBI News, PACL ltd vs SEBI Latest News, PACL money Refund Latest News, PACL money Refund News, PACL News Latest today, PACL News Refund 2019, PACL news today, PACL online payment, PACL Pearls News, PACL Pearls News today, PACL pvt ltd Latest News, PACL Refund, PACL Refund Application Form, PACL Refund Form Download, PACL Refund Form Online, PACL Refund Latest News, PACL Refund money News, PACL Refund News, PACL related Latest News, PACL scam Latest News, PACL sebi, PACL sebi News, PACL supreme court Latest News, PACL supreme court order, PACL to SEBI Latest News, PACL Update News, PACL vs sat Latest News, PACL vs sebi, PACL vs SEBI latest news, PACL Vs SEBI News, PACL vs SEBI today News, Pearls agrotech corporation limited Latest News, Pearls case Latest News, pearls company latest news, Pearls group News, Pearls india Latest News, Pearls India Limited, pearls india limited latest news, Pearls india limited News, pearls india ltd latest news, pearls india ltd online payment, Pearls india News, Pearls india pvt ltd Latest News, Pearls insurance company Latest News, Pearls insurance Latest News, Pearls Latest News, Pearls ltd Latest News, Pearls ltd News, Pearls News channel, Pearls News live, Pearls News network, Pearls PACL Latest News, Pearls policy Latest News, Pearls scam Latest News, SEBI against PACL Latest News, SEBI Committee Pacl Refund, SEBI Latest News on PACL ltd, SEBI Latest News PACL, SEBI News for PACL, SEBI News on PACL, SEBI News PACL, sebi on PACL, sebi order to PACL, sebi PACL, sebi PACL india limited, SEBI PACL latest news, SEBI PACL Refund account, SEBI vs PACL current News, supreme court PACL Latest News, what is PACL, When PACL return money, when pacl return money latest news, when pacl will return investors money, www PACL Latest News